Ladies: Glanmire's work-rate shines through in junior final
December 10, 2018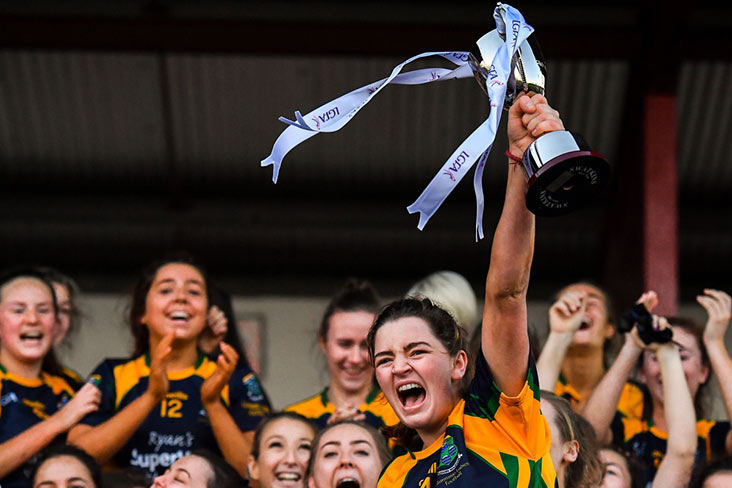 Glanmire captain Amy Turpin lifts the cup
Glanmire (Cork) 1-22
Tourlestrane (Sligo) 3-11
By DARAGH SMALL
Glanmire manager Dave Carey says his team's massive work-rate meant they were destined for glory when they took to the field against Tourlestrane in the All-Ireland junior club final at Duggan Park in Ballinasloe.
Kate Hannon scored 0-11 while Niamh McAllen grabbed the goal for the Munster champions, who became the second successive Cork winner in this grade, following Aghada's 2017 win.
But this is Glanmire's first junior crown and they held a 0-13 to 1-5 lead at half-time before they edged a titanic battle in their 72nd time training or playing together in 2018.
"I am thrilled to bits. They have worked hard all year round. We have had Leaving Certs, Junior Certs, college games they never stop coming to training. They work hard all year long," said Carey.
"These girls never say die. These girls just go and go they are just amazing really. Any time Tourlestrane scored a goal they hit right back.
"And we are only beginning with this win."
Hannon and McAllen were awesome up front but it was the heroics of goalkeeper Ava Carey, daughter of the manager, that kept Tourlestrane at bay.
She saved three times at point-blank range while Nikki Brennan, Sarah Cunney, Tara Walsh and Katie Walsh all missed chances.
However the latter was Tourlestrane's best player on the day. They Sligo full-forward scored everything for them in the first half and finished with a personal tally of 1-8.
The 19-year-old Hannon equalled that tally and manager Carey knows he has a special talent there.
"She is a footballer, a high calibre footballer, and she is fantastic," said Carey.
"She can do things that other players can't and she is a fabulous player."
For Tourlestrane, it was their first ever appearance in a final at this level, the first Sligo team since Drumcliffe Rosses Point (2009) to reach the final.
But despite goals from Katie Walsh, Cunney and substitute Molly Kennedy, Brennan's 32nd minute yellow card was crucial as they fell short.
"Nikki was a big loss in the middle of the field. The referee was a bit harsh on us in the second half. But there is no point blaming anyone we just weren't good enough on the day," said Tourlestrane manager Dave Bailey.
"We weren't far away we just didn't take our chance. We had six goal chances and we hit two, we missed four.
"We just had too many mistakes, dropping balls on the ground, the five-yard hand pass, things like that. It just wasn't our day.
"The girls played until the whistle was out and that's it. I wouldn't say Glanmire are a better team than us it just happened for them on the day."
Glanmire could also call upon the services of 10-time All-Ireland senior medallist Geraldine O'Flynn as mentor on a famous day in front of a big attendance.
Glanmire's win ensured two All-Ireland club titles for Cork over the weekend, following Mourneabbey's senior win on Saturday evening.
Scorers – Glanmire: K Hannon 0-11 (0-5f), N McAllen 1-7, A McCarthy 0-1, S Murphy 0-1, S O'Brien 0-1, A O'Mahony 0-1
Tourlestrane: K Walsh 1-8 (0-3f), S Cunney 1-2, M Kennedy 1-0, G Carty 0-1.
Glanmire: A Carey; R Kelleher, A McNamara, A Turpin; A McCarthy, E Baker, L Cashman; R Crowley, A O'Mahony; N McAllen, S O'Brien, E Twomey; E Murphy, K Hannon, S Murphy. Subs: C Murphy for Turpin (38), K O'Connor for S Murphy (44).
Tourlestrane: C Walsh; S Brennan, L Walsh, S Mooney; E Meers, S Henry, C Marren; A Egan, N Brennan; A Corcoran, G Carty, T Walsh; L Surlis, K Walsh, S Cunney. Subs: M Kennedy for Meers (36), L Gaughan for Surlis (44), C Brennan for Mooney (63).
Referee: Barry Redmond (Wexford).
Most Read Stories