Ladies: "We're not entirely happy with that performance" - Super sub Owens
April 23, 2018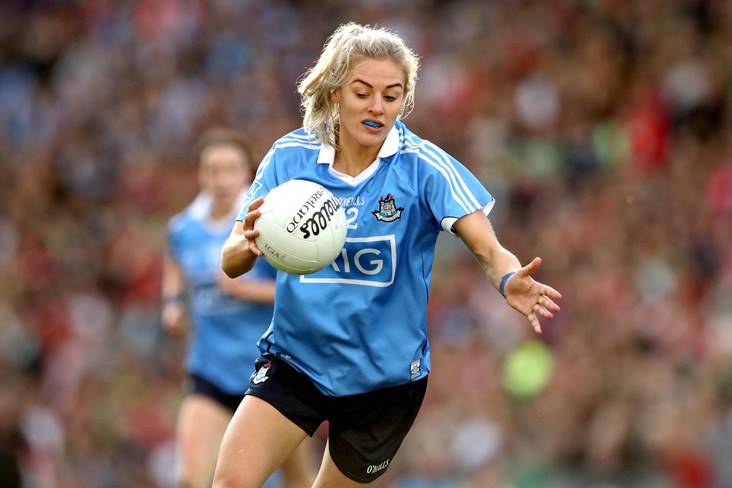 Dublin's Nicole Owens.
©INPHO/Ryan Byrne.
By Darren Kelly
Dublin's late, late match-winner Nicole Owens admitted that coming off the bench to score the decisive goal against Galway in the Lidl Ladies NFL Division 1 semi-final was "not the ideal way" to clinch victory.
But Owens was pleased nonetheless to see Dublin advance to a final clash with Mayo on May 6 - and put themselves within an hour of a first-ever League crown.
Super sub Owens, who came on at half-time, struck at the death to deny Galway and she said: "It's not the ideal way. We left it until the end but we won. That's all that matters.
"They led for the entire game and they really brought it to us and they're probably feeling very sick. We've been in that position. We've had it snatched away from us in the last minute so it's nice to be on the right side. 
"We're not entirely happy with that performance. At least we're in a very, very opportunistic position where we get to go away for a few weeks and work on everything that let us down in that match going into the final.
"It was a poor choice of hand-passing, poor execution of hand passing and kicking. We brought our game down to a level that we'd built it up from over the last few years.
"Galway are a very, very good team and they played very well today. But I think we played ourselves out of most of the game.
"They didn't score for the last 25 minutes which reflects so admirably on our defence. But we really struggled to get our own scores as well.  And I suppose we were lucky that our defence put up such a strong resistance."
Most Read Stories