Ladies: Mission accomplished for Royals
April 01, 2018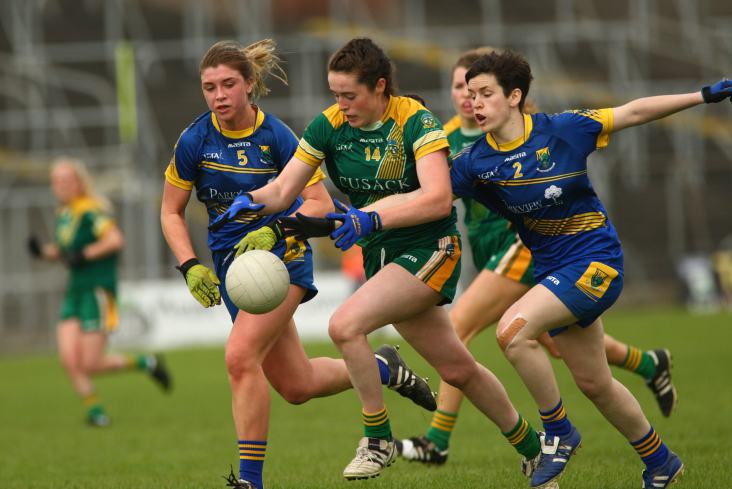 Meath's Marion Farrelly gets away from Niamh McGettigan and Aoife Gillen Wicklow during the opening round of the Leinster Ladies IFC at Pairc Tailteann
LIDL National League Division 3 - Round 7
Meath v Offaly
Half Time: Meath 3 - 08 - Offaly 1 - 01
Full time: Meath 4 - 09 - Offaly 3 - 09
Sunday April 1st 2018
Referee: Jonathon Murray - Carlow
Let's start at the end. When the final whistle blew both sets of supporters gave a generous round of applause. It was that type of match, honest, fiercely contested with no quarter given nor asked. Let's be clear here. The intensity in ladies football sir,is as intense as any man's game. Decades of playing and more watching, confirmed that to me.  Now back to the start.
A strong wind down the centre of the cosy Edenderry pitch made the Royalettes feel at home, it was as cold as Dunganny. Meath played with the wind and it was a wise call. Forwards need to time, time to set their shooting sights and the Royal use of the wind was a tad heavy. Enter young midfielder Aoibhin Cleary who shot two long range points. Sunday's match will bring Aoibhin on to another level. Exposed to the heavy lifting that centre fields endure, Cleary did well. 
Niamh Gallogly raiding from left half back booted three statement points. The Royals were on a mission now. Fiona O'Neill, back from injury netted a fine goal and point. But Offaly weren't sleeping and in a purple patch they put up 1 -01. Had Monica McGuirk not made a flying finger tip save along with a point blank stopper, the Royals would have been in big trouble. Normal service was resumed by Marion Farrelly with a sweet goal and the points rained over. Freed at last? Time would tell.
Half time came and with Meath's comfortable lead standing out on the electronic scoreboard against a grey Easter sky, had they declared their innings? Off came the dynamos of the team, Sarah Powderly who cracked a fine goal on a raid, and Niamh Gallogly. By the way, did I mention that Katie Newe, Orlagh Lally, Maire O'Shaughnessy, Kate Byrne, Vicky Wall and the inspirational captain and leader Niamh O'Sullivan were missing? They were - but the calm management team were now empowering the panel. Jerseys were on offer, who wanted to keep one?
Offaly morphed into Meath's first half mode and laid siege on the Royal rearguard. This was backs to the wall stuff, not a day to flex running a bench for optics. But calm prevailed. No hysteria, no finger pointing or mock despair. Offaly were actually good value for their comeback. The Royal cushion seemed comfortable but was now taking a pounding. Stacey Grimes and Megan Thynne dropped deeper, helping the defence. McGuirk made an incredible save and Offaly number 10 Máiréad Daly was becoming a menace.
Last Sunday in Wexford Niamh Lister perhaps had her mowing blades set a little too deep. Today however on her introduction, she cut to the exact length, stiffened the defenceand turned the tide. Aoibhin Cleary dropped into a sweeper role, Thynne and Grimes carried the ball forward and Farrelly netted. A sigh of relief all round. A point embroidered the Royal tally and now service was back to Offaly. In fairness they came again and again but resolute defending held out and a last minute Offaly consolation score probably gave the scoreboard a true reflection on a titanic battle. Well done all the ladies on both sides.
So the first goal of the season has been achieved for the players and management of Meath? Qualification for a league semi final was the outcome. The entire panel of 30 got game time, not just a token box ticking effort. They were given the chance to show the management team that they merited a Jersey next time out. Next time out it's do or die. Win and you get to a final, lose and that's it until the championship. This team are winners. And remember ladies, Meath expects. 
This league has shown that this Royal group are fit, very fit. They are good, they are together and they possess heart and steel. The flow that emanates across the executive, the management team and playing squad is evident on first sight of involvement with those Royalettes. Never ever underestimate that type of dynamic. Many good counties fail due to one or more parts being absent. Meath have a platform. They are on a journey. 
The team and squad have strength on all lines. Blessed with fine keepers, solid defenders, platform builders at midfield, pace and an eye in the forwards and tactically astute, it will take a good outfit to stop them. One never likes singling outplayers for praise until you can sink your teeth in silver but it would be remiss not to single out the pulse and heart of this team. In doing so, they reflect the vital other parts of the body ethic that is Meath. Stacy Grimes is the heart and Megan Thynne is the pulse. Their honesty, ability and integrity are reflective of the entire squad and mentors. 
Meath can now look forward to a semi final against Down. This is set for the weekend of April 21st/22nd. Waiting on confirmation. 
Meath team: Monica McGuirk, Siofra Cleary, Michelle Peel, Sarah Powderly, Emma Troy, Shauna Ennis, Niamh Gallogly,Aoibheann Leahy, Aoibhin Cleary, Meabh Downey, StaceyGrimes, Orla Byrne, Fiona O'Neill, Megan Thynne, MarionFarrelly. 
Subs: Emma White for Powderly, Karley Leavy for Gallogly, Niamh Lister for Leahy, Laura Dempsey for O'Neill. 
Scorers Meath: Marion Farrelly 2-0, Fiona O'Neill 1-1, SarahPowderly 1-0, 
Niamh Gallogly 0-3, Aoibheann Leahy 0-2, Stacey Grimes 0-2, Orla Byrne 0-1.
Offaly; C Mangan; A Kehoe, S Cummins, A. Carey ; D Hannon, E Maher, K Kehoe; G Dolan and A G Mangan; M Daly, A Kerrigan, A Norris; M Coleman, E. McEvoy, MByrne. 
M Daly 1-5, A Norris 0-3, M Coleman 0-1, M Byrne 1-0, Number 22 1-0.
Most Read Stories