Ladies FL Div 3: 'Rossies' stun Meath in Mullingar
February 19, 2018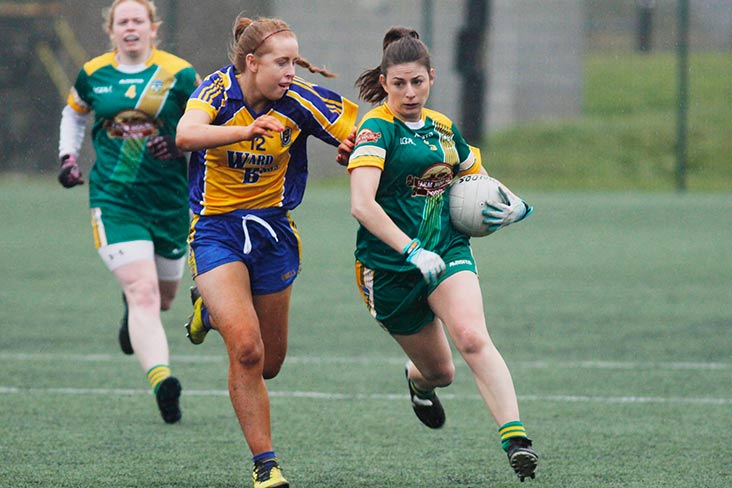 Emma Troy gains possession for Meath against Roscommon during the NFL Division 3 game in Mullingar
National League Division 3 - Round 3
Roscommon v Meath
Roscommon 2-09  Meath 0-12
You could say goals win matches but that's not always true, even though Roscommon scored two on Sunday afternoon in St Lomans grounds Mullingar. Roscommon won because they were the better team. Often it's as simple and unarguable as that. Faster, not fitter but hungrier than Meath, Roscommon dug out a hard fought win on a typical grey February Sunday!
From the off the Rossies matched their Royal opponents. No quarter asked and none given by both sets of girls. Individual battles raged around the pitch. Stacey Grimes threatened to dictate the match for Meath up front. Sarah Powderly put in a ferocious block on Brady that augured well for the girls in green and gold and Emma Troy made a marvelous interception.   Niamh O Sullivan ranged around the half forward line with menace, kicking hard worked points for herself and team.
However Roscommon matched the superb fitness of the Meath ladies and started to drive forward themselves. Rosin Wynne the Rossies number 3 made Vicky Wall fight for every ball belted her way. Early on it was evident that Roscommon were up for Meath's finest. Their full forward Rebecca Finan finished to the Meath net and in that scramble Judy Bobbett the Royal keeper, was injured. Though Meath battled for every ball, it was a day that the ball would not stick for them. Any bobble or break in play saw a Roscommon girl come away with the ball. Their hunger was greater.
Half time saw them go in 2-5 to 0-8 ahead and the Royal management knew they were in a war. Meath's substitutions weren't because the replaced player was poor; it was because they tried to do something new. It was that type of match, evenly balanced with superb fitness. We come back to Roscommon greater hunger as a recurring theme. Their loss to Down stung them, the Royal win v Down possibly left them with the wrong message. Meath began the second half on the attack but were fought for very ball. All the Royal girls battled. They never lost shape but their opponents two goals now became stumbling blocks.
Some forced shooting options, inches wide but costly began to gnaw at Meath. Any shot the Roscommon girls took, simply hit the mark. One outrageous point from Laura Fleming summed up the Royals day. She simply lofted a beauty from 40 meters. Earlier some last ditch defending had smothered promising attack's initiated by the hard working Aoibhin Cleary leading to frustration. Meath powerhouse number 9 Maire O Shaughnessy got a yellow card. That summed up the day, honest endeavor wasn't going to win the day.  Meath's four point second half tally was matched by the Rossies doing the same. Theirs came easier and that at the end of the day was the difference.
No Royal girl can be faulted for lacking fight or guts. Indeed had their shooting boots been working, they could have won. But they also know that on the day they were that bit short. Without doubt lessons will have been learned from the Mullingar outing. The negatives are redeemable in that the marginal difference between the two sides boiled down to one very hungry side beating a side that had coasted their previous two matches. Lessons will be learned because this group of Royalettes are one very focused, fit and determined bunch.
Sarah Powderly had a solid match; Niamh Gallogly took the fight to Roscommon and kicked a fine point. Midfield met an equal pairing; both Kate Byrne and Maire O Shaughnessy will be the better from that battle in the coming games. Megan Thynne absence allowed the redoubtable Emma White to have a solid match. Niamh O Sullivan worked her socks off, Aoibhin Cleary won a sight of ball but this time found her marker was of the sticky variety. She will benefit from the outing. Stacey Grimes threatened to run amok in the beginning but found herself tightly marked. She battled nonstop.
As usual the substitutions were seamless but they too were drawn into the attritional Roscommon team. At the end of the day no shame was incurred on the Meath girls. They battled to the final whistle. They learned lessons and with their undoubted determination and hunger allied to the clever management team, they will face the rest of the campaign with confidence and belief. Sunday was a day for them in which if they bought a Lotto ticket, it wouldn't have won a prize but the beauty is this, in a week's time they get to go again and resume normal service. Next up for the Royals is Leitrim. Details TBC.
Meath scorers: Stacey Grimes 0-3, Niamh O'Sullivan 0-3, Vikki Wall, Orla Byrne, Shauna Ennis, Niamh Gallogly, Maire O'Shaughnessy and Emma White 0-1 each.
Meath: Judy Bobbett, Niamh Lister, Orlagh Lally, Sarah Powderly, Emma Troy, Michelle Peel, Aoibhin Cleary, Kate Byrne, Maire O'Shaughnessy, Emma White, Niamh O'Sullivan,  Aoibhin  Cleary, Stacey Grimes, Vikki Wall, Orla Byrne. Subs: Laurie McLean for Bobbett (inj), Katie Newe for Lister, Shauna Ennis for Peel, Marion Farrelly for O., Byrne, Bláthnaid Keogh for White.
Most Read Stories