Lidl announces even more Serious Support for the LGFA in 2018
January 24, 2018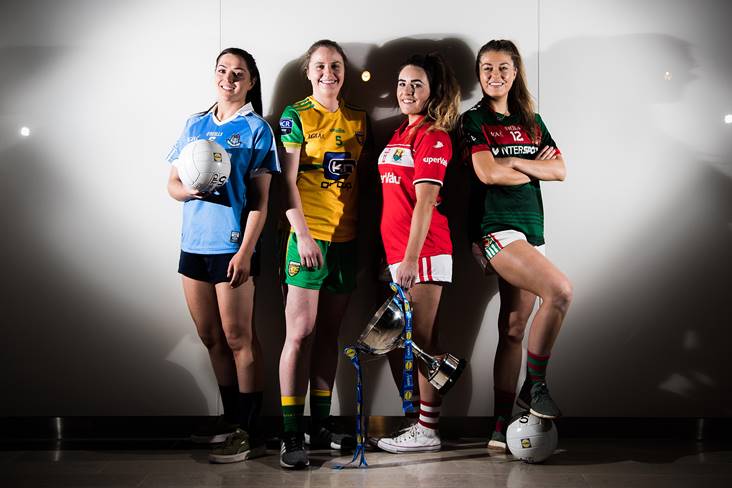 At the launch of the 2018 LIDL Ladies National Football Leagues, Dublin's Sinead Goldrick, Donegal's Roisin Friel, Cork's Orlagh Farmer and Sarah Rowe of Mayo ©INPHO/Tommy Dickson
Lidl today announced plans for the third year of their partnership with the Ladies Gaelic Football Association, at the launch of the 2018 Lidl Ladies National Football Leagues.
Following on from the phenomenal success of the #SeriousSupport campaign over the past two years, Lidl today commits to further and significant investment during the season ahead.
The 2018 Lidl National Football Leagues have the potential to be the most keenly-contested in recent years, with intense competition across all four divisions.
Cork begin the Lidl Division 1 campaign as holders, and they're chasing a tenth top-flight crown in eleven years.
They won't have it easy, however, against a top-quality field containing reigning TG4 Leinster All-Ireland senior champions Dublin, while Kerry, Donegal and Galway are also in the hunt, counties who are the current Munster, Ulster and Connacht title holders respectively.
Westmeath are the new team in Division 1 and there will be plenty of interest too in Mayo, now under the guidance of former Westmeath manager Peter Leahy, but beginning their campaign without Cora Staunton.
Monaghan also have a new manager in charge, Annmarie Burns, and the eight counties in Division 1 will start out the new season with big ambitions.
There's also a high-quality field in Division 2 as Armagh and Tipperary get set to lock horns in next weekend's opening fixture.
Tipperary are the reigning TG4 All-Ireland intermediate champions and they went through the entire 2017 campaign unbeaten.
Elsewhere, Laois, Cavan, Clare, Sligo, Tyrone and Waterford will look to stamp their mark on the second tier.
Wexford, who lost out to Tipperary after a replay in last year's Lidl Division 3 final, will fancy their chances of going one step further this time while 2017 TG4 All-Ireland junior finalists Derry and Fermanagh will renew acquaintances in Division 4 this season.
Speaking at the launch of the Lidl National Football Leagues, LGFA President, Marie Hickey said: "2017 was a great year for the sport of Ladies Gaelic Football, as we celebrated new milestones and the record attendance at Croke Park on All-Ireland finals day.
"Our partnership with Lidl helped with that and it continues to benefit our Association both on and off the fields of play.
"We are most grateful for their continued #SeriousSupport and I'm hugely enthused by the start of a new Lidl National League season next weekend.
"I would encourage all of our supporters to turn out in force in the stands and on the terraces and help us to make this a Lidl National League season to remember."
Speaking on behalf of Lidl Ireland, Managing Director J.P. Scally commented: "As we enter year three of our #SeriousSupport campaign for Ladies Gaelic Football, we continue to be impressed by the ambition and drive of the Association and its players.
"With many high-profile games to come, showcasing the exceptional talent from around the country, the future has never looked brighter for the game.
"For two years now, we have run initiatives that have seen us donate kits and funds to hundreds of schools and clubs around the country, as well as carrying out research to address important issues such as why young girls drop out of sport so early.
"We will continue our #SeriousSupport campaign apace and look forward to engaging and backing even more grassroots groups over the course of the season."
The next phase of the campaign will see Lidl investing further in the LGFA where it matters most - at local level and in the community.
This is where #SeriousSupport is born and nurtured - through the dedication of a local community.
To celebrate their third year of partnership with the LGFA, Lidl have today launched their new 6-pack of Carrick Glen Active Spring Water. 10 cents from each purchase will fund jerseys and equipment for U-18, or under, LGFA club teams.
Nominate your local Ladies Gaelic Football club to win in any Lidl store nationwide, or via Lidl's Facebook Page.
Throughout the year, Lidl will run various initiatives to benefit all levels of Ladies Gaelic Football, following on from the successful 'Serious Starts Here' campaign in 2017.
The new, branded Carrick Glen Active Spring Water packs will hit Lidl stores next week. 
2018 Lidl National Football League Round 1 Fixtures (all taking place on January 28th unless otherwise stated)

2018 Lidl National Football League Division 1
Mayo v Westmeath, Swinford Amenity Park, 12.30pm (M Farrelly)
Galway v Monaghan, TBC, 2:00pm (M Kenny)
Kerry v Cork, TBC, 2:00pm (J Mullins)
Donegal v Dublin, O'Donnell Park, Letterkenny, 2:00pm (G Carmody)
2018 Lidl National Football League Division 2
Armagh v Tipperary, Silverbridge, 12:00pm (D Love)
Laois v Cavan, TBC, 2:00pm (D McEnery)
Clare v Sligo, Milltown, 2:00pm (K O'Brien)
Tyrone v Waterford, Drumragh, 2:00pm (C Dourneen)
2018 Lidl National Football League Division 3
Longford v Wexford, McGann Park, 2:00pm (D Carolan)
Roscommon v Offaly, Kiltoom, 2:00pm (Y Duffy)
Meath v Down, Dunganny 3G, 2:00pm (P Burke)
Kildare v Leitrim, Hawkfield, 2:00pm (A Gallagher)
2018 Lidl National Football League Division 4
Carlow v Limerick, Feenagh, 2:00pm (PJ Ahern)
Wicklow v Derry, TBC, 2:00pm (J Corcoran)
Fermanagh v Antrim, St Patrick's GAA, 2:00pm (D Kearns)
Kilkenny v Louth, TBC, 2:00pm (J Murphy)
Most Read Stories