History making Galway brothers
March 05, 2016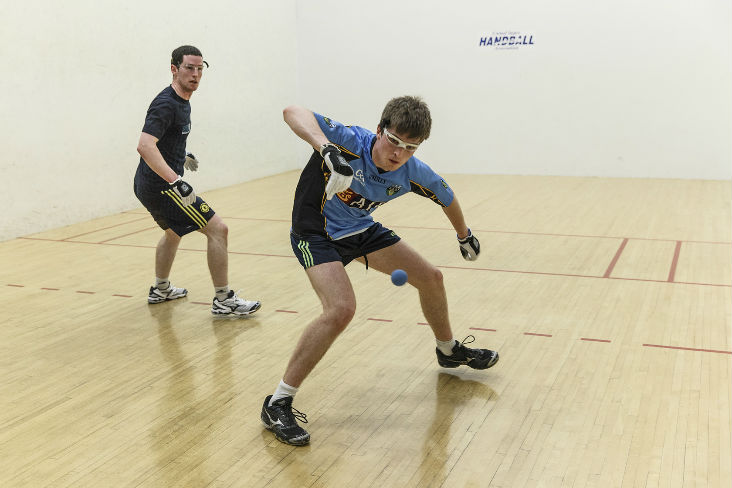 Martin Mulkerrins in action
by Paul Fitzpatrick

Two brothers from Galway will make GAA handball history today - we think - when they take part in All-Ireland minor and senior semi-finals on the same day at different venues.

Moycullen duo Martin Mulkerrins (23) and younger brother Diarmuid will take on Armagh's Charly Shanks and Tyrone's Sean Kerr in the All-Ireland Senior Singles and All-Ireland Minor Singles semi-finals respectively.

Martin, a regular on the pro tour in the States, graduated from UCD last year and after returning to home for work reasons, he has been training hard with his younger sibling - and the results are obvious.

"I trained a lot with my brother, he's in the minor semi-final this weekend so I suppose it's a great achievement to have two brothers in the minor semi-final and senior semi-final," he said.

Diarmuid, representing Galway school St Mary's, recently won the All-Ireland Colleges U17 Singles title while Martin claimed the Connacht senior title.

"He's going well, this weekend we both have the freedom to play our own games and just go for it. The two boys we're playing are the favourites, they were in the respective finals last year. We're going in with nothing to lose, it's his first time in a minor semi-final and my first time in a senior semi-final," said Mulkerrins the elder.

"Training has been going very well so we're going to give it our best."

Also on the senior double bill at Kingscourt is the clash of holder Robbie McCarthy (Westmeath) and Limerick's CJ Fitzpatrick.
Most Read Stories