Corofin's Burke wants to kick on
November 28, 2017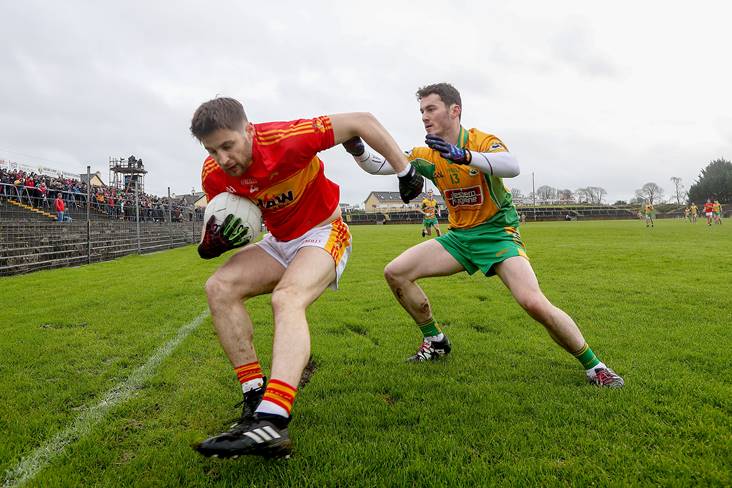 Castlebar's Donie Newcombe and Ian Burke of Corofin during the Connacht SFC club final ©INPHO/James Crombie
by Declan Rooney
Corofin and Galway forward Ian Burke thinks this year's stint with the county team has improved his performances and helped him deliver on the big occasions.
Burke (24) took some time to break through into Kevin Walsh's inter-county team, but by the end of the summer he has cemented his place in the starting 15. 
A five-point haul in a stellar display against Kerry at Croke Park showed that the 2013 Hero of the Future and All-Ireland U21 winner was capable of performing on the biggest stage, but with a third Connacht club title to his name now, he's happy to put in the hard yards for Corofin.
"It was a brilliant year. I enjoyed playing with Galway so much. It's just a different level. It brought me on a lot, I believe, and I think my performance here is testament to that couple of months I had inside with Galway. Hopefully I can go again for next year," said Burke.
"I just got out there and was happy to put in a good performances. And I was going well in training and wanted to transfer that to the pitch and managed to do that."
A couple of inches under six foot tall, Burke's stature was seen as one of the reason what it took some time for him to become a regular squad man in the physical inter-county game. A summer spent in America also halted his progress into the Galway team, but since his return the hard conditioning work has paid off and he earned his championship debut for the Tribesmen against Donegal in July. He says he is happy to keep improving all the time.
"People have their opinions but I go out and play my own game and hopefully that'll do for the county team.
"I suppose county is different to club and we're just happy to have a good set up here with the club. Thankfully the last couple of years we've had good runs. Hopefully it will translate to Galway and hopefully we'll have a good year this year."
After their extra-time victory over Castlebar Mitchels on Sunday, Corofin now face a tricky All-Ireland quarter-final in London in two weekend's time against Fulham Irish. A win in Ruislip could see Burke and his club mates missing out on the start of Galway's Division 1 campaign in February.
But the stylish attacker is not getting too concerned about any club versus county debate, and will leave the discussions to his two managers.
"Look that's not my call. I think management will have to talk about it over Christmas and see what they can work out between them. I'll just go with that."
Most Read Stories