All-Stars hurling exhibition: 2017 selection prevail in goalfest
December 09, 2017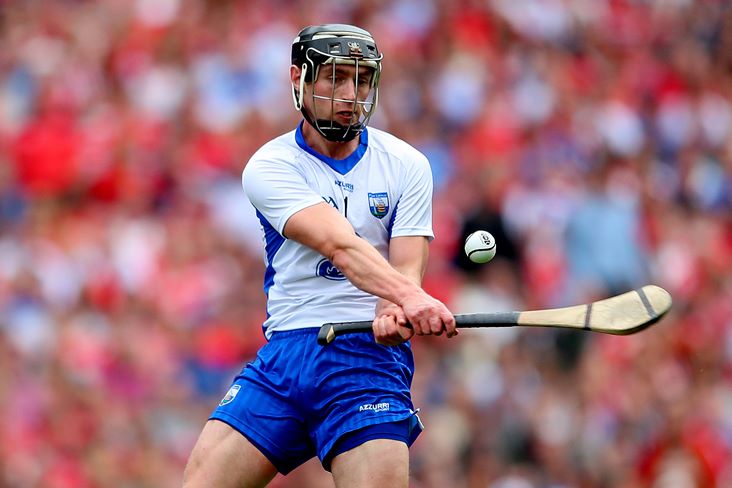 Pauric Mahony on Waterford duty
2017 All Stars 30 goals
2016 All-Stars 23 goals
Spectators at today's PwC All-Stars hurling exhibition at the Singapore Recreation Club were treated to 53 goals as the 2017 All-Stars defeated their 2016 counterparts in a nine-a-side contest.
Waterford's Pauric Mahony and Galway's Conor Cooney combined for a whopping 17 goals for the winners. Gary Hannify, who won an All-Ireland medal with Offaly way back in 1998 and was one of three Singapore-based players taking part in the exhibition, top-scored for the 2016 selection with four goals. Another 'local', Padraic Dineen, also netted for the 2016 team.
In a game played over four quarters, the 2017 team led by 14 goals to 10 at half-time before the 2016 All-Stars got to within a goal in the third quarter. However, Mahony hit five goals on the spin in the final quarter to put the result beyond doubt.
The exhibition match formed the centrepiece of a six-hour games programme at the Singapore Recreation Club.
Scorers - 2017 All-Stars: Pauric Mahony 10 goals, Conor Cooney 7 goals, Conor Whelan 4 goals, Brendan Maher, Tadhg De Búrca both 2 goals, David Burke, Lee Chin, Noel McGrath, Noel Connors, Padraic Dineen all 1 goal. 2016 All-Stars: Gary Hanniffy 4 goals, Patrick Maher, Walter Walsh, Ronan Maher all 3 goals, Cathal Barrett, Daithi Burke, Padraig Walsh, Austin Gleeson, John McGrath all 2 goals.
2017 All-Stars panel: Colm Callanan, Padraic Mannion, Matthew O'Hanlon, Noel Connors, Tadhg De Burca, Gearoid McInerney, Padraic Dineen, David Burke, Brendan Maher, Lee Chin, Pauric Mahony, Conor Whelan, Conor Cooney, Noel McGrath, Mike Barry.
2016 All-Stars panel: Eoin Murphy, Cathal Barrett, James Barry, Daithi Burke, Padraig Walsh, Ronan Maher, Padraic Maher, Jamie Barron, Gary Hannify, Walter Walsh, Austin Gleeson, Patrick 'Bonner' Maher, Richie Hogan, Seamus Callanan, John McGrath.
Referee: Fergal Horgan (Tipperary).
Most Read Stories