Cooper: no drink ban in Dublin camp
December 15, 2017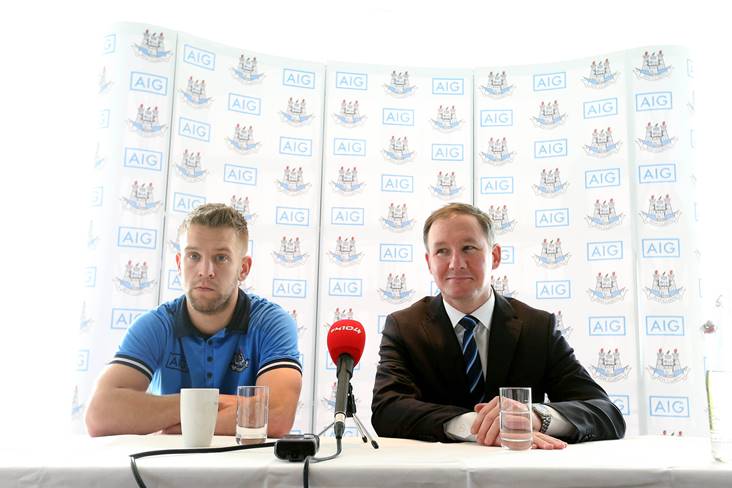 Jonny Cooper and manager Jim Gavin.
©INPHO/Cathal Noonan.
Jonny Cooper has revealed that Jim Gavin has never enforced a drink ban in Dublin.
Speaking at the launch of the Bord na Mona O'Byrne Cup in Tullamore yesterday, Cooper said it's left to the players to decide whether to drink or not. And the All-Ireland winning defender admitted that he is one of a number of players who abstained from drinking alcohol during the whole of last season.
"I don't think it's ever been a formal conversation in a team setting," he is quoted as saying in the Irish Daily Star. 
"Even this time of the year, I'm sure they do have the odd blow out, they're no different to me.
"But I'm sure they do keep one eye on what's coming down the tracks. Christmas is obviously going to be busy for everyone but straight away in January you're going to be hitting the training hard."
The Na Fianna clubman added: "I think now everything is so driven, and even those small margins are important. And drink obviously affects you, potentially for a couple of days, and makes you feel not too good afterwards in most cases.
"And all the things around performance and small margins and gains are so important, particularly in season.
"I personally went from our holiday last year right through to September (without drinking), I think it was one night or evening I had a few. But I know lads who were off it completely.
"Just because if you're out 'til three or four, two or three, and you're trying to get up, it just doesn't add up. And it's so competitive now that no-one's willing to give too much room for somebody else to nudge them out of the way for any reason."
Most Read Stories