LGFA announces details of Gaelic4Girls and Gaelic4Teens programmes
December 14, 2017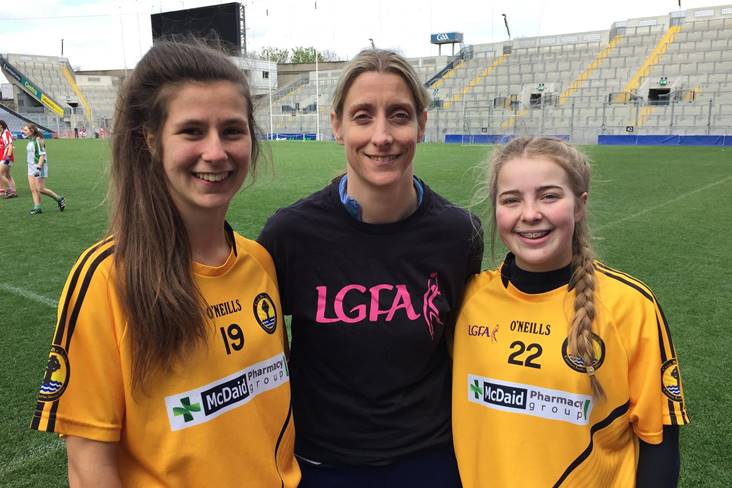 Cora Staunton at the launch of the LGFA initiative 'Gaelic4Teens'
The Ladies Gaelic Football Association is pleased to announce details of the 2018 LGFA Gaelic4Girls and Gaelic4Teens programmes.
Gaelic4Girls is celebrating its ten-year anniversary and in a specially-commissioned video, current Armagh All-Star Aimee Mackin, former Dublin star Louise Kelly and the LGFA's Operations and Planning Manager Paula Prunty share their experiences.
"I know a lot of people in our club who wouldn't have ever played Gaelic, only for the programme," says Mackin, from the Shane O'Neills club.
"It's a good starting point for someone who hasn't any background or wants to get involved in a sport."
Prunty has tracked the progress of Gaelic4Girls since its inception, and she explained: "It's all about learning through fun, skill games. That concept is still here ten years later.
"What the programme is actually based on has stood the test of time.
"The programme has been rolled out in over 350 sites, and I can only estimate that over 20,000 girls between the ages of 8 and 13 have participated."
Kelly, who featured on the recent Blues Sisters documentary, added: "There are a lot of kids out there who are into themselves but they may just need something to bring them out of themselves.
"Now that I'm a mum and bringing my children there, I can't wait to bring them into Gaelic Football."
The Gaelic4Teens programme was run on a successful pilot basis this year, and will double in size in 2018, with 20 clubs participating.
Applications for Gaelic4Girls and Gaelic4Teens are now open and details can be found on the Ladies Gaelic Football Association website: http://ladiesgaelic.ie/?post_type=promotions&p=29032
The closing date for applications is Wednesday, January 17, 2018, and places are limited.
Most Read Stories