What they said ... the weekend in quotes
August 20, 2018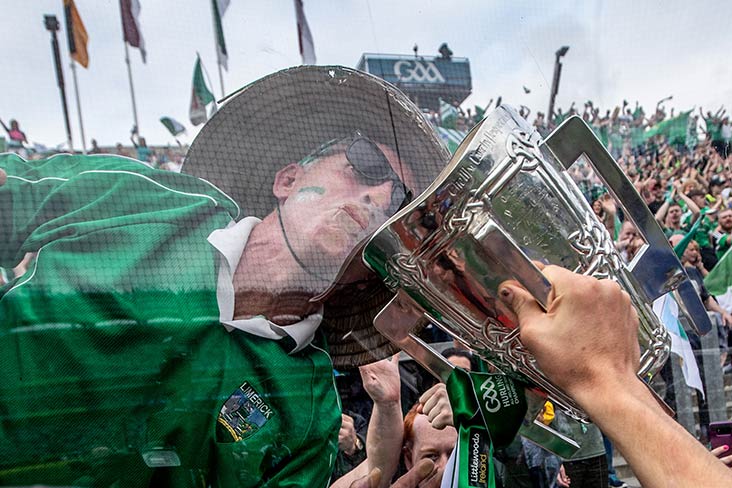 A Limerick fan kisses the Liam McCarthy Cup through the glass on Hill 16
"We felt for the last 45 years that we were second class citizens when it came to hurling. We were always the bridesmaids and today we got over the line. I'm just so happy for everyone here in this stadium and at home in Limerick."
John Kiely guided Limerick to the promised land after 45 years in the wilderness.
"I stood here three weeks ago and pleaded with the fans to give us space and allow us focus. Now I am saying to the fans, 'can you now go absolutely mental for the next couple of weeks!'"
It's party time for goal scoring hero Shane Dowling and the Treaty County faithful.
"I can be no more prouder of the lads, they fought until the end. We were a puck of the ball from getting a draw, they died with their boots on and I couldn't have asked for any more."
Defeated Galway boss Micheal Donoghue paid tribute to his players who came very close to snatching a draw.
"His character and leadership can never ever be questioned. And the same goes for a lot of the players we had out there."
Joe Canning led the Tribesmen's fight back and selector Francis Forde sang his praises after the final whistle.
"To come back against the All-Ireland champions on their own field, it's through things like that you know there's something special in the group."
After his man-of-the-match performance, Kyle Hayes recalled the Shannonsiders' league win over Galway in Salthill earlier this year.
"There is no doubt about it, she has worked on their inner strengths. Their mindset today was 'we are coming up here to play!'"
The role that sport psychologist Caroline Currid played in Limerick's long awaited success was highlighted by RTE pundit Liam Sheedy.
"We had 70-something pitch sessions, 40 gym sessions. That's how much we wanted it this year. There is no secret to it, it's hard work."
The Tribesmen didn't leave Croke Park empty handed as Jeffrey Lynskey masterminded a third All-Ireland MHC success in four years.
"It was a great effort. Seven points might have been a small bit harsh on us. We had very good goal chances and didn't manage to take them."
Kilkenny finished seven points in arrears and manager Richie Mulrooney was left to rue missed opportunities.
Most Read Stories