What they said … the weekend in quotes
November 20, 2017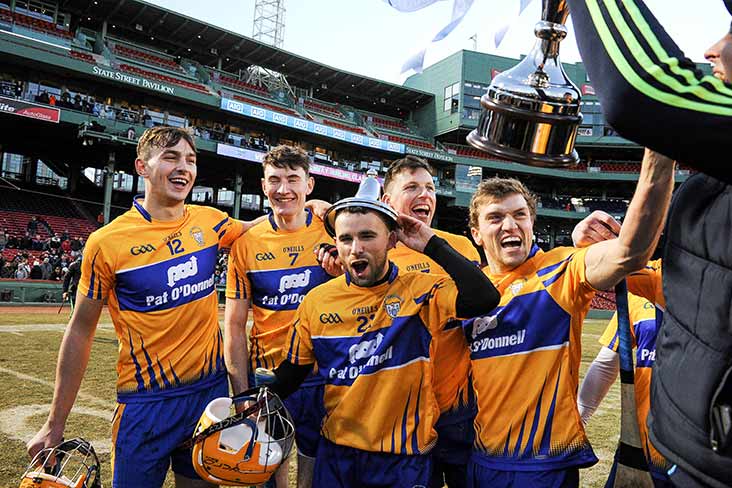 Clare players celebrate with the trophy at Fenway Park, Boston
"A lot used to be made about amateurs against professionals. There's nothing amateurish about how they prepare."
Australian coach Chris Scott was impressed with Ireland's performance in Perth.
"I thought the refereeing was diabolical. Michael Murphy was tortured all day. He was being dragged all over the place and never got a free. I don't mind a man being targeted if he gets cover. There was no cover for him today."
Michael Murphy received no protection from the referees, according to Irish manager Joe Kernan.
"It's an incredible honour to be asked to play for your country. If it's on in Jupiter, we'll go to Jupiter - wherever it's on we'll try to attack it."
Clare's Gary Brennan outlined what it means to him to pull on the green jersey.
"Winning four Munster club titles, it's a phenomenal achievement. The only other club we're behind now is Blackrock, who are one of the greatest teams ever to play, be it at county or club level. For our guys to be only one behind them and to win as much as we've won since 2011 just shows how ambitious they guys are."
Shane O'Neill and Na Piarsaigh continued their winning ways against Ballygunner.
"To be fair we have no complaints. They left everything on the field and they did their best. That's all you can ask of fellas every day they go out."
Gunners manager Fergal Hartley couldn't have asked for more from his players.
"Con O'Callaghan is a special player. I saw him two weeks ago against Dicksboro. Today again I think he scored 1-3 - yeah, unbelievable."
St Martin's boss Tomás Codd sung the praises of Dublin dual ace Con O'Callaghan.
"They took the game to us and had a right go at us and you have to admire them for that."
Cuala manager Mattie Kenny took his hat off to the Wexford champions.
"We are going into a game where we will be completely written off. We are in a position where we won't be favourites but having said that, we have a bit of work to do over the next few weeks and we won't be going in there lightly."
Kilcormac-Killoughey made light work of Mount Leinster Rangers and Stephen Byrne is switching his focus to a final showdown with Kenny & Co.
"We went to put high balls into the square to see if it would work. We did work on it. Sometimes they come off and sometimes they don't. We were just lucky today they did come off."
Under Jason O'Reilly's guidance, Cavan Gaels netted five goals in their dramatic Ulster Club SFC semi-final replay victory over Derrygonnelly Harps.
"It was always a childhood dream to play for Kerry and to do so for so long fills me with great pride. I've been so lucky to play with some of the best players that the game has ever seen, and will be forever grateful for sharing an unbelievable journey with them."
Five-time All-Ireland winner Bryan Sheehan called time on his inter-county career.
"He has been an outstanding servant for Kerry stretching back to 2004, winning five All-Irelands on the way. He has also had remarkable success at club level. His kicking ability has always been his biggest strength. His dead ball kicking is second to none and he is the ultimate stylist. I wish him all the best for the future."
Eamonn Fitzmaurice paid tribute to the 32-year-old.
"They are probably conscious of the amount of games we have to play in the Munster championship next year as well. It all plays a part in those decisions. In some years, these competitions can come in handy if you are trying to blood players. If we were in it, we'd still be trying to win it but we are out of it now and we have different focuses."
Tipperary star forward Seamus Callanan backed his management's decision to withdraw from the Munster SHL.
Most Read Stories