Survey: camogie players call for change
April 24, 2019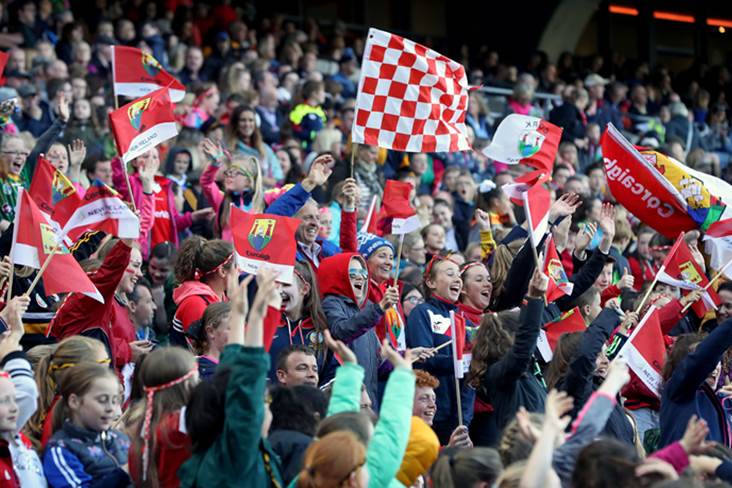 Cork fans celebrate a score during their side's All-Ireland senior camogie final victory over Kilkenny at Croke Park.
©INPHO/Bryan Keane.
Eight out of 10 inter-county camogie players want rule changes - "particularly around physical contact" - to be trialled.
That is one of the findings of a survey conducted by the Women's Gaelic Players Association (WGPA) which has been published today.
Titled 'Camogie 2019 : The Players' View', the purpose of the survey was to gather the views and experiences of camogie players on issues related to the game they play.
It was distributed through WGPA membership to players across 23 county panels and 243 players responded.
The report states: "Although not listed as one of the main impactors on playing standards or participation, support for rule changes, particularly around physical contact was apparent."
The players also called for "consistency and transparency about how refereeing is managed in the game".
It proposes the following actions:
1. Harness the potential of players: set up a player engagement group, with a membership of current and past players to discuss the findings of this analysis; how they sit with the wider camogie membership, and how they might be integrated into the new Camogie Development Plan. In addition, this would be a useful forum to ensure understanding and transparency between the Camogie Association and players, and to facilitate support and consultation, if required around branding and marketing, and enhancing attendances.

2. Commence a referee engagement process: engage players, managers, referees and the Camogie Association in a discussion around the policing of the game. Objective analysis should be undertaken and/or shared to help to resolve issues around consistency, accuracy, transparency and communication. The Camogie Association has commenced this process and players look forward to playing a role with the other stakeholders.

3. Conduct a rules review: the survey findings and that of the statistics on finals suggest a change in the game, particularly in comparison to hurling. This needs to be probed further to include a broader set of championship games and a wider set of indicators such as frees awarded, and playing styles. Following the decision at Congress 2019, this should include an action plan on trialling new rules and making informed decisions around long term changes. In addition, players described camogie as skill oriented and fast, but there needs to be analysis of how the game measures up to this in practice and in perception.

Read the report in full here: 'Camogie 2019 : The Players' View'
Most Read Stories