Camogie All-Stars tour announced as shortlist for 2017 Senior All-Stars Awards released
October 04, 2017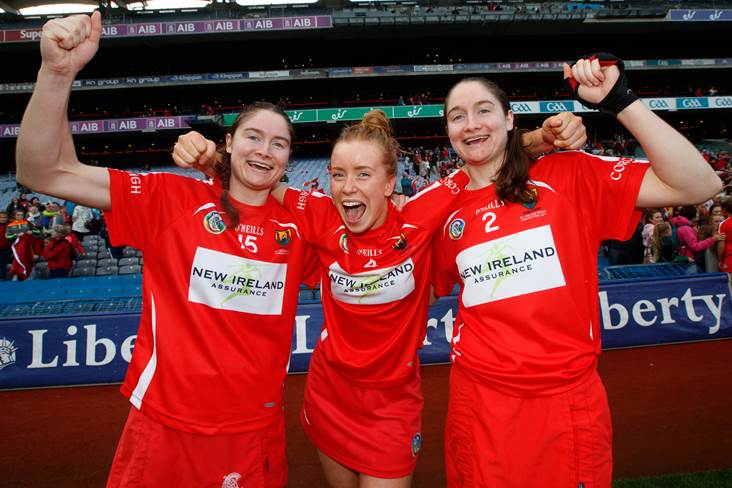 Cork's Katrina Mackey, Laura Treacy and Pamela Mackey celebrate after their side's All-Ireland senior camogie final victory over Kilkenny at Croke Park.
©INPHO/James Crombie.
The Camogie Association and Liberty Insurance are delighted to announce that the first ever Liberty Insurance Camogie All-Stars Tour will take this year with Madrid being announced as the destination for the inaugural trip.
The Tour which will take place from November 29th until December 2nd will see two teams comprising of the winning Senior All-Stars from both the 2016 and the upcoming 2017 Awards ceremony face each other in an exhibition match in the Spanish capital.
The Tour is an opportunity to reward these players for their dedication, skill and passion for the game for which they are all true role models, and to continue to spread the game to new audiences in Europe.
Shortlist for 2017 Senior All-Stars Awards confirmed
All-Ireland champions Cork and finalists Kilkenny lead the Camogie All-Stars 2017 shortlist. The final team will be announced at the 14th annual Camogie All-Stars Awards banquet, sponsored by Liberty Insurance at Citywest Hotel on Saturday, November 4th.
Cork, who won a record 27th Senior All-Ireland title, receive 11 nominations. Goalkeeper Aoife Murray, defenders Rena Buckley, Pamela Mackey, Gemma O'Connor, Eimear O'Sullivan and Laura Treacy are amongst the nominees. O'Connor is seeking an incredible 10th All-Stars Award. Ashling Thompson has been nominated at midfield whilst Orla Cronin, Orla Cotter, Katrina Mackey and Amy O'Connor are nominated amongst the forwards.
Kilkenny receive 9 nominations. Goalkeeper Emma Kavanagh, defenders Anne Dalton, Catherine Foley and Grace Walsh are amongst the nominees for the Cats. Meighan Farrell is nominated at midfield, whilst Denise Gaule, Julie Ann Malone, Katie Power and Miriam Walsh are nominated amongst the forwards.
Dublin receive 7 nominations as a result of their run to the Semi-Finals; goalkeeper Faye McCarthy, defenders Eva Marie Elliott, Hannah Hegarty, Eve O'Brien and Áine Woods, midfielder Eimear McCarthy, and forward Aisling Maher.
Galway receive 6 nominations; defenders Heather Cooney and Tara Kenny, midfielders Niamh Kilkenny and Ann Marie Starr, and forwards Aoife Donohue and Ailish O'Reilly.
Clare receive 5 nominations; defenders Máire McGrath and Róisín McMahon, midfielder Orlaith Duggan, and forwards Aoife Keane and Chloe Morey.
Wexford receive 4 nominations; defenders Bríd Gordon and Sarah O'Connor, and forwards Chloe Foxe and Shelley Kehoe.
Limerick, Tipperary and Waterford receive one nomination each with Limerick's Niamh Mulcahy, Tipp's Orla O'Dwyer and Waterford's Beth Carton all named amongst the forwards.
President of the Camogie Association Catherine Neary congratulated the nominees stating that "The Camogie All-Stars Awards celebrate the outstanding performances of our players all of whom have helped to light up our summer not only in their own counties but across Camogie in general. To receive a nomination for an All-Stars Award highlights the skill, commitment, athleticism and sportsmanship of our players and it is important to acknowledge at a national level their contribution to our game and to provide them with the recognition they so richly deserve. The 2017 nominees are drawn from across 9 counties and showcase the continued growth of Camogie at intercounty level. I wish to thank our commercial partners Liberty Insurance for their continued sponsorship of the Camogie All-Stars Awards."
Deirdre Ashe, Director of Personal Lines for Liberty Insurance said "The tour that we're announcing today builds on our continued commitment to the promotion of women in sport and rewards the 2016 & 2017 All-Stars, each of whom are role models in their communities, for their dedication, skill and commitment. The trip to Spain is deserved recognition for the country's finest athletes and provides an opportunity to showcase the game to new audiences in Europe.
"We'd also like to congratulate each of the shortlisted players and managers, it's been another very exciting Championship and a memorable season of Camogie. The All-Stars Awards are one of the highlights of the sporting and social calendars and we'd like to wish everyone the best of luck on November 4th."
Paudie Murray (Cork), John Davis (Meath) and Johnny Greville (Westmeath) are amongst the nominees for Manager of the Year, which will be announced on the night along with the 2017 All-Stars team.
The nominees for the Intermediate Soaring Stars and Soaring Stars will be announced later this week.
Nominees for the Camogie Association/WGPA Senior, Intermediate and Junior Players' Player of the Year Awards sponsored by Liberty Insurance will be announced next week.
Camogie All-Stars 2017 sponsored by Liberty Insurance, nominees list:
Goalkeepers: Aoife Murray (Cork), Faye McCarthy (Dublin), Emma Kavanagh (Kilkenny)
Full-Back Line: Máire McGrath (Clare), Rena Buckley (Cork), Laura Treacy (Cork), Eve O'Brien (Dublin), Áine Woods (Dublin), Tara Kenny (Galway), Catherine Foley (Kilkenny), Grace Walsh (Kilkenny), Sarah O'Connor (Wexford)
Half-Back Line: Róisín McMahon (Clare), Pamela Mackey (Cork), Gemma O'Connor (Cork), Eimear O'Sullivan (Cork), Eva Marie Elliott (Dublin), Hannah Hegarty (Dublin), Heather Cooney (Galway), Anne Dalton (Kilkenny), Bríd Gordon (Wexford)

Midfield: Orlaith Duggan (Clare), Ashling Thompson (Cork), Eimear McCarthy (Dublin), Niamh Kilkenny (Galway), Ann Marie Starr (Galway), Meighan Farrell (Kilkenny)
Half-Forward Line: Aoife Keane (Clare), Orla Cronin (Cork), Orla Cotter (Cork), Katrina Mackey (Cork), Amy O'Connor (Cork), Denise Gaule (Kilkenny), Katie Power (Kilkenny), Niamh Mulcahy (Limerick) Shelley Kehoe (Wexford)
Full-Forward Line: Chloe Morey (Clare), Aisling Maher (Dublin), Aoife Donohue (Galway), Ailish O'Reilly (Galway), Julie Ann Malone (Kilkenny), Miriam Walsh (Kilkenny), Orla O'Dwyer (Tipperary), Beth Carton (Waterford), Chloe Fox (Wexford)
Manager of the Year: Paudie Murray (Cork), John Davis (Meath), Johnny Greville (Westmeath)
Most Read Stories