"The last thing I want to see is Kerry not win All-Irelands"
November 12, 2016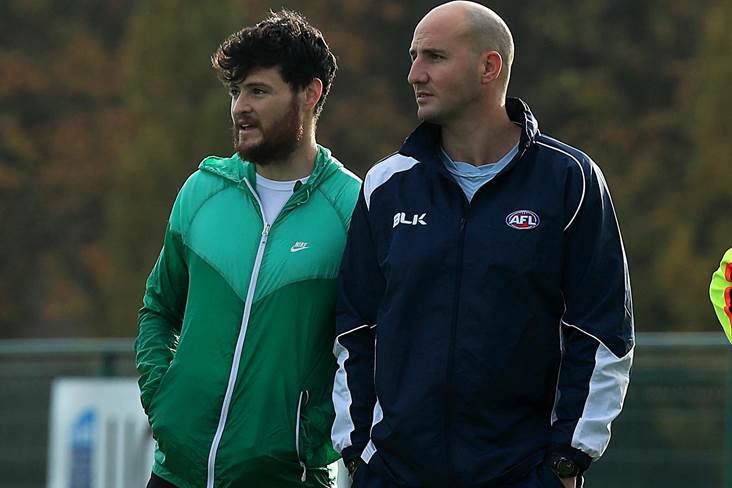 Marty Clarke and Tadgh Kennelly look on during an AFL Talent Combine in UCD.
©INPHO/Donall Farmer.
Tadgh Kennelly doesn't subscribe to the theory that the AFL's poaching of emerging Kerry talent is bad news for the Kingdom's Sam Maguire Cup winning potential.

Former All-Ireland winning minor captain Mark O'Connor recently penned a deal with Geelong while there are five Kerry players attending the Kennelly organised AFL Talent Combine in UCD this weekend.
The star of this year's minor success, David Clifford is expected to participate next year and, in response to recent criticism from within his own county, Kennelly told The Irish Examiner: "Mark O'Connor (going to the AFL) is not going to kill Kerry football.
"The last thing I want to see is Kerry not win All-Irelands but Mark O'Connor being contracted to Geelong is not going to stop them doing that. There is enough talent and programmes there.
"David Clifford has had enough contact from Australia without me contacting him and that's an issue for David if he is concerned about gaining an opportunity on the other side of the world.
"Of course, I want Kerry to win All-Irelands. Of 51 players, only three have played over 150 games in Australia. What's Mark O'Connor going to learn in two years? He's going to learn everything about his body. He's going to have enough time to get his knees right and more than likely he won't make it because the stats tell us that and he'll be back in two years.
"That's the reality of it but that story is not being told. The story being told is Mark O'Connor is 18 years of age, blah, blah, blah."
Most Read Stories