Devenney believes Murphy is most versatile player of all time
May 23, 2019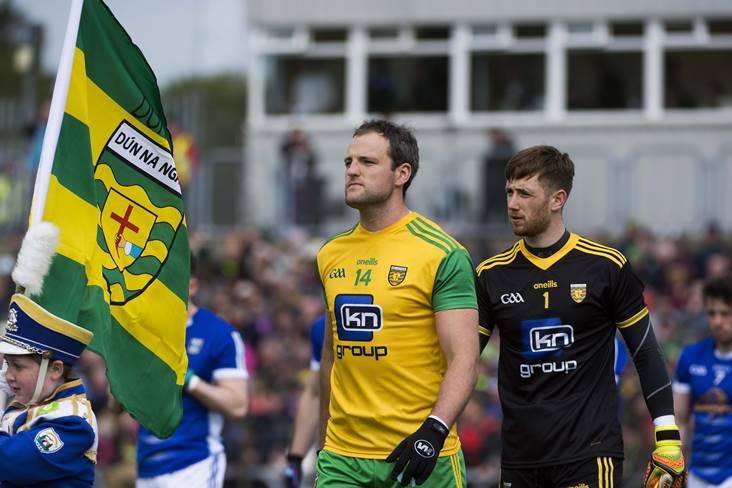 Donegal captain Michael Murphy.
©INPHO/Evan Logan.
by Daragh Small
Former Donegal forward Brendan Devenney says captain Michael Murphy is right up there as the most versatile footballer of all time.
Murphy underwent knee surgery at the start of the year but came back and inspired Donegal to the Allianz FL Division 2 title against Meath in Croke Park.
The reigning Ulster champions begin their defence away to Fermanagh in the quarter-final at Brewster Park on Sunday and the 29-year-old Glenswilly clubman will again lead the way,
"He is the best all-round player I have ever seen and I will have this debate with anybody," said Devenney.
"Outside of the corner-back positions, he can play the whole half-back line right up. I don't know many players who can do that. You can talk about the brilliance of a Peter Canavan, Maurice Fitzgerald or Gooch Cooper but they can't play half-back, they can't play midfield.
"Someone who brings it all to the table and is a free-taker and a leader. People ask me is he Donegal's best ever? He is so far ahead. If you halved him he would still be at the top.
"What we are going to do when he retires, I don't know. He was the difference in the league. His influence in the game against Meath was unbelievable."
The twice All Star scored 0-7 in the Division 2 final in March but a young pretender emerged when Oisín Gallen helped himself to 0-4 from play on his Croke Park debut.
"Kildare were shocking the day Donegal played them and three of Oisín's points, that day he had the breeze behind him. He kicked them well and I was excited by him," added Devenney, speaking at a championship discussion event in Galway which was organised by NUIG.
"But I thought Croke Park told us more. Again, he kicked four brilliant points. You would have to say he is going to be a serious option. And it's some full-forward line with Paddy McBrearty back now. You would think Jamie Brennan will be inside with him.
"If McBrearty and Murphy are in there it's definitely the best full-forward line in the country but Murphy won't stay there. His roving position is his best. You hear people from outside the county saying you need to leave him inside. If we had the midfielders then he would but Donegal don't have that luxury.
"Once he is out there the big thing is not to get too withdrawn. He is such a figure out there that he ends up being slightly in the half-back area. We need him just beyond the two midfielders.
"If he is pinging the ball into Gallen, McBrearty of Brennan that is the ball you want. You want Murphy supplying the ammunition and them finishing it."
Most Read Stories