Top Oil committed to Fuelling the Future of Leinster GAA
November 07, 2018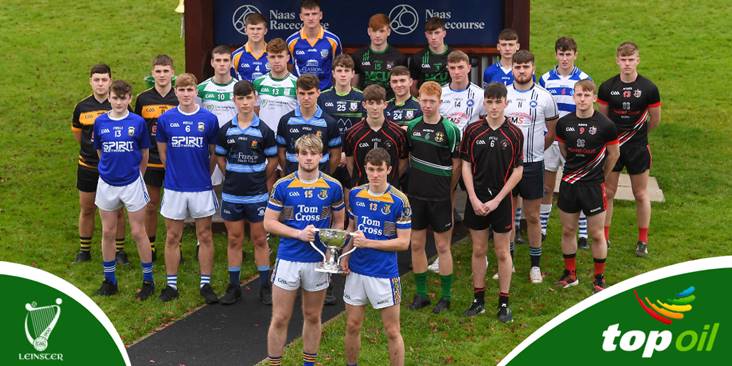 Liam Broderick, left, and Jack Hamill, of 2017 champions Naas CBS, with fellow post primary players during a Leinster GAA Top Oil Post Primary Football Launch at Naas Racecourse in Naas, Co. Kildare.
Yesterday marked the official launch of the 2018/19 Top Oil Leinster GAA Br. Bosco Football Championship.
This coincided with the announcement of Top Oil returning as headline sponsor for all Schools activity within Leinster GAA. This year Top Oil is looking to build on what is already a successful partnership. They aim to do this by increasing the coverage of games and supporting all those involved in the Schools GAA Community.
Top Oil CEO Gerard Boylan spoke of his excitement for the year ahead "We are very proud of our relationship with Leinster Schools GAA - our association with the GAA is very much a part of our company heritage. Working in partnership to develop the next generation of players through the school's competition is something we at Top Oil are strongly committed to."
Also present at the launch Leinster Chairman Jim Bolger outlined the new direction that this partnership would be taking "We are extremely excited to continue our partnership with Top Oil, their commitment this year moves to all facets of the GAA within our schools. There are a number of exciting initiatives in the pipeline that will benefit not only players but the wider GAA community".
Kildare Captain and former Naas CBS student Eoin Doyle insisted that participating in the Top Oil Br. Bosco Championship helped his development as a player. "There is no doubt that taking part in such a high-level competition improved me as a player massively. You're playing against a cross section of some of the best talent in Leinster so that only serves to ensure you are then ready for the step up to inter-county". Doyle also was impressed with Top Oil and Leinster GAA's plans for the year ahead "It's great to see a company like Top Oil really committing to the future players. The work they have planned with Leinster this year will create a real buzz around the school game that will benefit all those with an interest in GAA".
The 1st Round of the Top Oil Leinster GAA Br. Bosco Football Championship will take place on Nov 14th with reigning champions Naas away to Scoil Aodhain, while arguably the pick of the first-round games sees old rivals St. Pat's Navan take on Coláiste Mhuire Mullingar.
Most Read Stories